Helping our member governments tackle challenges, collaborate with other leaders, and make a lasting impact on the region.
Central Pines is an independent, public organization with membership open to all local governments in our region. As members, local governments receive numerous opportunities to shape regional outcomes and support their local goals. 
CPRC is proud to have all seven counties and the majority of our region's cities and towns as participating members. Broad participation is critical to the success and vitality of our work. 
Member Communities
Representing| over 2 million residents across a seven-county area​
Diverse | As large as Wake County with +1.1 million residents and as small as Goldston with roughly 300 residents​
Structure | Governed by forms of government varying from council-manager form, strong mayor, or commission style​.
Financial Health | Some are very healthy; others are struggling to maintain or improve infrastructure.​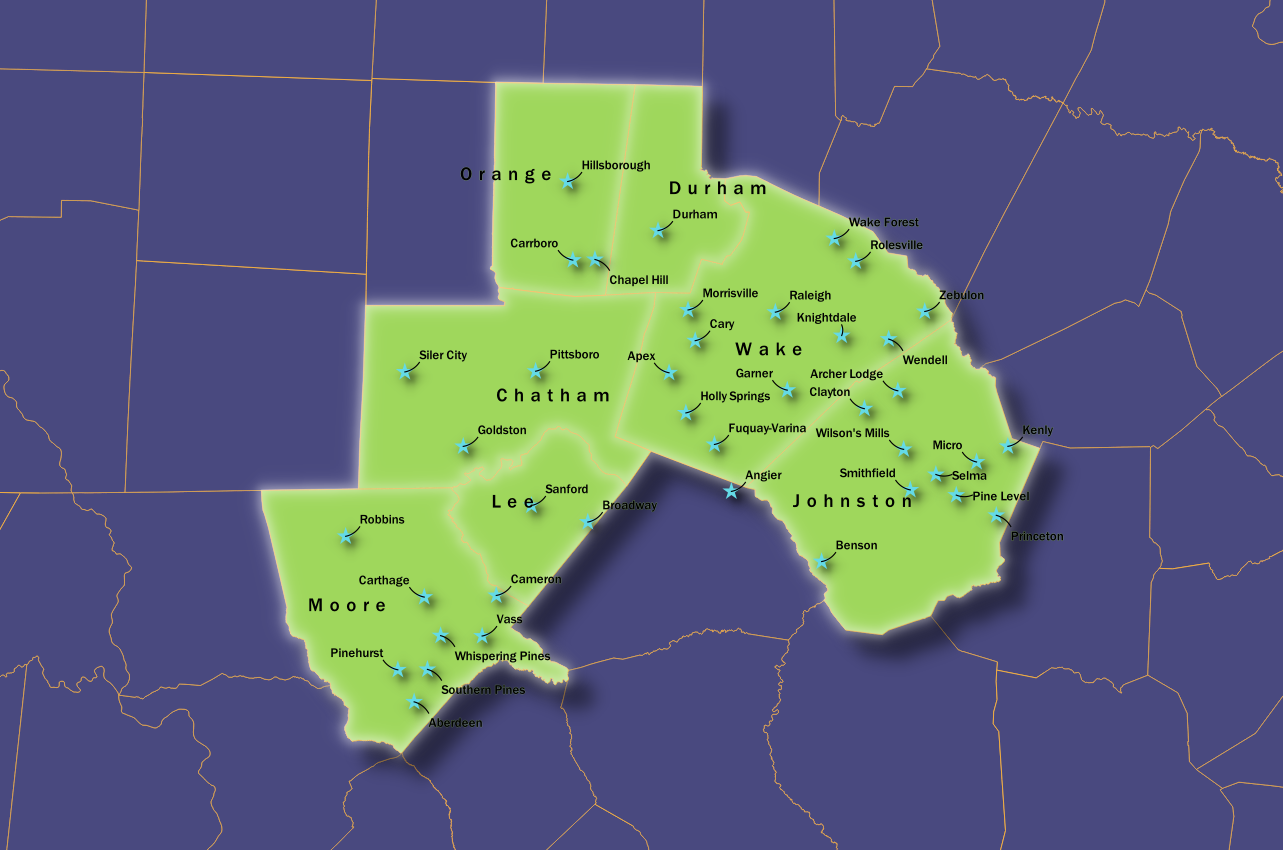 CPRC has designed these resources to best fit our members regardless of their size or type of government. Our member governments receive exclusive access to advisory and technical services, grant assistance, peer networks, and more. Maximize Central Pines Regional Council membership by encouraging your elected officials, staff, and partners to take advantage of the resources, opportunities, and connections available.
Vote on the CPRC Governing Board
Each of our member governments hold one seat on the CPRC Governing Board, filled by an elected official from their local board. As a member of the board, Delegates are responsible making important decisions, setting priorities, and shaping the direction of Central Pines Regional Council.
Participate in Peer Groups
Our facilitated peer groups are an excellent opportunity to connect with like-minded professionals and learn from each other's experiences. Relevant staff from member governments are automatically invited to participate in our City/County Managers, Human Resource Directors, and Finance Directors groups, which provide a safe and supportive environment to share best practices, brainstorm solutions, and get advice on common challenges. 
Access Technical Assistance
Central Pines Regional Council provides a wide range of services to help your organization grow and thrive including:
Joint purchasing and cost-sharing
On-site administrative and finance staffing
Human resources support 
American Rescue Plan (ARPA) and federal grant management
GIS and data modeling
Strategic planning and facilitation
and more!
Annual Free Assistance Hours
Members receive a dedicated allocation of free assistance hours each year. Utilize these hours for expert advice, consulting services, or technical assistance on specific projects or challenges you're facing.
Attend Our Events and Workshops
Central Pines Regional Council hosts a wide range of events and workshops throughout the year, including training sessions, webinars, and conferences, that are designed to connect members, share insights, and explore emerging trends and issues. Attendees learn from experts, gain new perspectives, and forge valuable relationships with other members. 
Stay Informed and Engaged
Central Pines Regional Council provides regular e-news updates through our newsletter, the Pine Needler, as well as topic-specific newsletters to keep our members informed and engaged. These resources are designed to keep you up-to-date on emerging trends, news, and events that affect our community. By staying informed, you can be proactive and stay ahead of the curve.