CPRC has a long history of facilitating intergovernmental partnerships and providing technical assistance to sustainably manage water supply and water quality across jurisdictional lines. As our region's population grows, the need for cooperation between local governments, state and federal agencies, environmental organizations, and higher educational institutions in the region only increases.
Currently, we administer or support the following programs to help local governments achieve their watershed planning and stormwater infrastructure mapping, management and education goals.
Jordan Lake One Water (JLOW) Coalition is a registered North Carolina nonprofit!
Our new website is ready! Check it out at jordanlakeonewater.org!
In the meantime, check out the Jordan Lake One Water Vision and Recommendations Document (Sept 2021).
About the Watershed
The Jordan Lake Watershed is a resource utilized by 10 counties, 27 municipalities and nearly 700,000 customers. As the region grows and faces more water quality and water supply challenges, coordination and strategic policy are imperative.
CPRC launched the Jordan Lake One Water Association to bring together public and private sector stakeholders to conduct watershed planning, recommend policy to the State legislature, and implement an integrated water management strategy. 
JORDAN LAKE STRATEGIC CONSERVATION STRATEGY
During 2018-2019, JLOW partners and stakeholders undertook a planning process to design a land conservation strategy using the best available science and geographic data to identify land protection priorities.  The results were included in an enhanced Geographic Information Systems (GIS)-based Watershed Protection Model that spatially identifies prioritized locations to invest in land conservation.
Jordan Lake Strategic Conservation Strategy 
UNC POLICY COLLABORATORY NUTRIENT STUDY REPORTS
During the 2016 legislative short session the North Carolina General Assembly approved a special provision in the annual budget bill, House bill 1030, Section 14.13(a) "Development of New Comprehensive Nutrient Management Regulatory Framework." This section directs UNC-Chapel Hill to "oversee a continuing study and analysis of nutrient management strategies and compilation of existing water quality data specifically in the context of Jordan Lake and Falls Lake."
As our region changes, new and aging infrastructure challenges for our member governments grow. CPRC has supported regional and local infrastructure work to ensure all communities have feasible, sustainable, and adequate water and sewer infrastructure. We assist with regional infrastructure needs in both the rapidly growing parts of the region and the parts that are struggling to recruit and grow due to to a lack of opportunities.
One of the biggest concerns for many communities, large and small, is the feasibility of maintaining and managing their water and wastewater infrastructure. Through partnerships with the NC Department of Environmental Quality, the Environmental Finance Center, and more, CPRC works with communities to assess their current infrastructure, examine and assess potential regionalization or merger opportunities, and recommend the best next steps for each community. 
Past Projects
Siler City Stormwater Infrastructure Mapping and Assessment Project
Siler City Planning and Public Works Departments; Biocenosis LLC
In 2019-2020, CPRC worked with key staff from Siler City and consulting firm Biocenosis to map and assess the functionality of stormwater infrastructure in Siler City's downtown area which floods frequently.
Read the final report and stormwater infrastructure maintenance recommendations here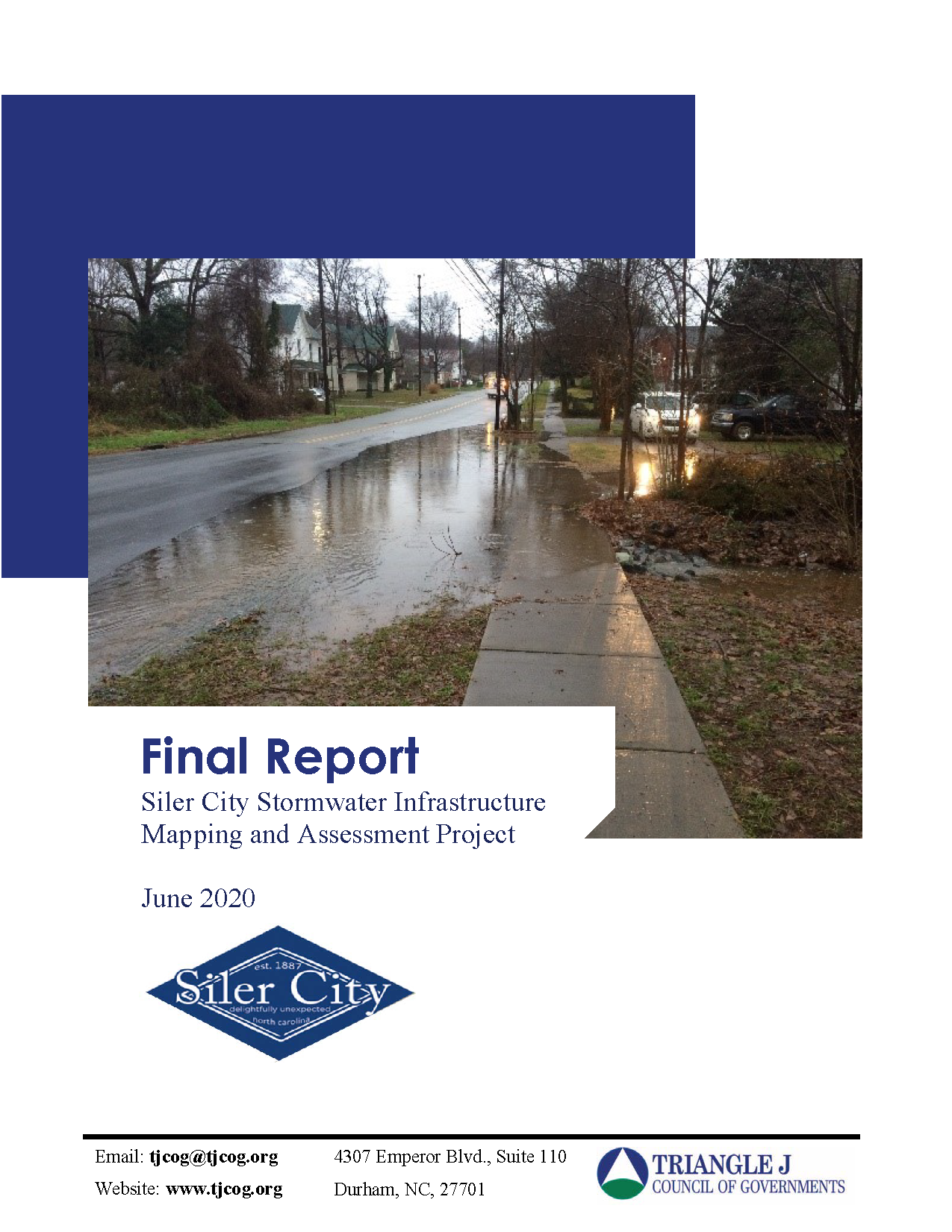 Merger Regionalization Feasibility Study 
Kenly, Micro, Pine Level, Princeton, Selma, Smithfield, Johnston County
In early 2019, CPRC worked with the associated communities to apply for a Division of Water Infrastructure grant and conduct a Merger Regionalization Feasibility Study; the funding was ultimately awarded. The study will investigate, analyze, and recommend potential options for collaborative wastewater management in Northeast Johnston County. Each community faces unique wastewater treatment challenges but provides unique resources and capabilities to the geographic area. 
CPRC provided outreach, member engagement, and a collaborative process for the study, and engaged UNC School of Government's Environmental Finance Center for expertise on financial feasibility analyses.
Since 2002, CPRC has facilitated and administered the Clean Water Education Partnership (CWEP), a cooperative effort between local governments, state agencies, and nonprofit organizations to protect water quality in the Tar-Pamlico, Neuse, and Cape Fear River Basins. 
CWEP aims to protect North Carolina's waterways from stormwater pollution through public education and outreach using a unified message about stormwater and pollution. We accomplish this through two main avenues: in-person education at community festivals, after school programs, libraries, and classroom visits; and mass media outreach campaigns via digital, radio, television, print, and cinema ads in English and Spanish.
CWEP has 42 local government members across Central and Eastern North Carolina (36 municipalities and 6 counties) that participate in the program.