CPRC strives to help the region prepare and compete for federal, state, and private funding through a combination of free and fee-for-service assistance to local governments and community partners. This page includes general tips and information on grants and federal or state funding.
Member governments that are seeking additional capacity and grant management support are encouraged to join CPRC's Grant Assistance Program which offers on-call grant support, including finding, writing, and administering grants on an annual basis. 
Tracking Major Legislation Investments in Our Region
CPRC has created a central dashboard to track programs, applications, and awarded projects in our region through the Inflation Reduction Act, Bipartisan Infrastructure Law, and American Rescue Plan. 
This dashboard serves as a resource for local governments and partner agencies to identify opportunities for coordination and highlight the local effort to bring investment to our region.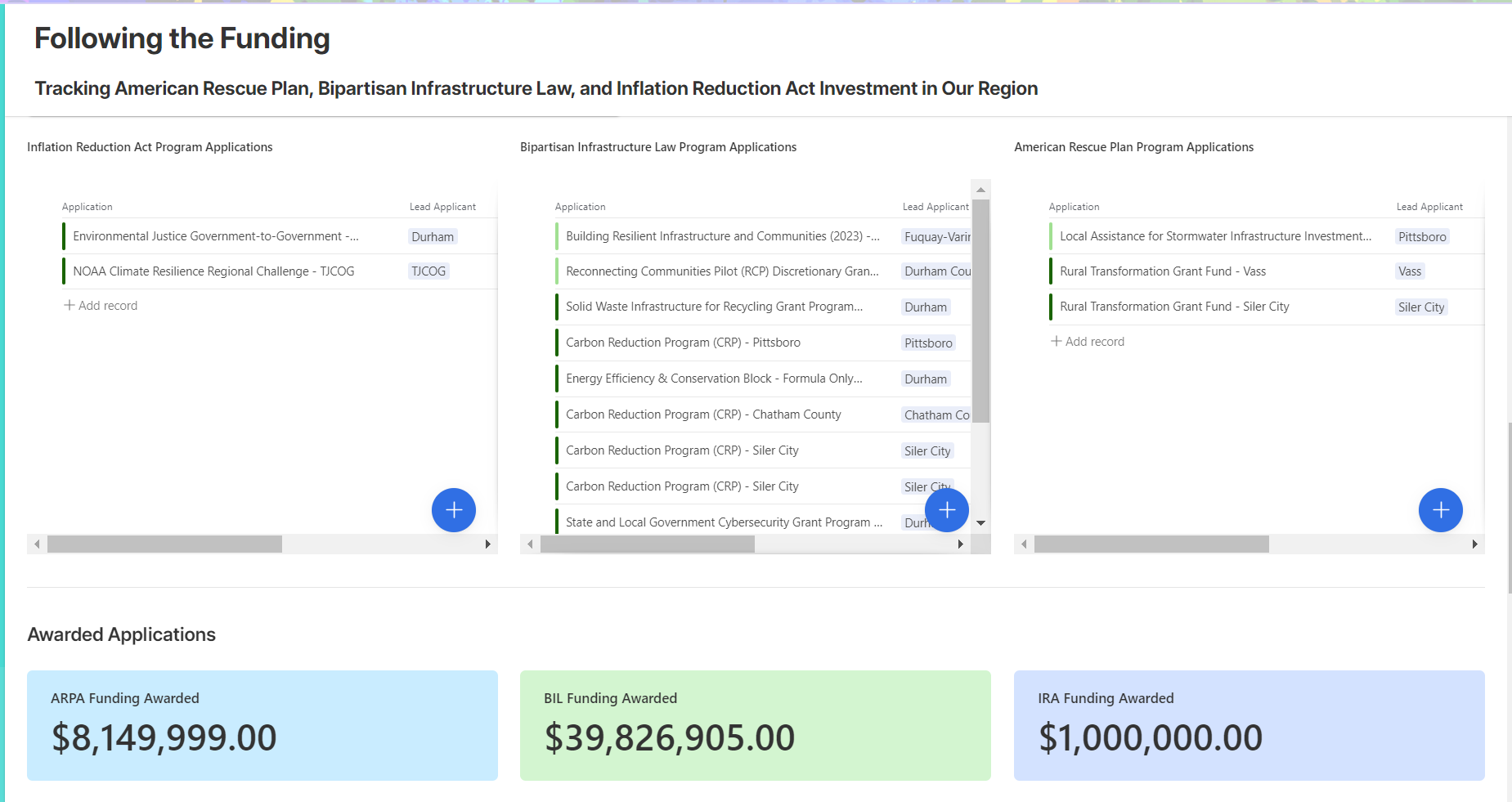 On the dashboard, you can explore the following information:
Find a Funding Program - Details on open and expected programs that will be eligible to local governments through BIL and IRA
Applications In Progress and Under Review - Submit applications underway in your local government and check out other applications across the region
Awarded Funding & Applications - You guessed it.... Awarded applications in our region!
Following the Funding Dashboard
** You will be required to create a free Airtable account to view the dashboard**
The Inflation Reduction Act includes $370 billion in climate and clean energy funding, with priority given to lower-income households and disadvantaged communities. It creates opportunities for local governments to pursue clean energy initiatives and reduce emissions through new competitive grants programs, local resiliency investments and clean energy tax credits.
The Act expressly creates two new federal grant programs that provide substantial funding to state, local and tribal governments: the Neighborhood Access and Equity Grant Program and the Greenhouse Gas Air Pollution Planning and Implementation Grants. Significant investments from the Act are also allocated to existing programs. Additionally, the Act broadly allocates funding to federal agencies for a policy purpose/objective without other details or expressly directing it to an existing or new program. 
Resources: 
Enacted in late 2021, the Bipartisan Infrastructure has authorized $1.2 trillion to be allocated towards transportation and infrastructure initiatives over the course of five years. This includes a noteworthy allocation of $550 billion designated for vital areas such as public transit, roads and bridges, climate resilience, water infrastructure, clean energy, broadband expansion, and other significant infrastructure investments. The passage of this legislation marks a significant milestone in bolstering the nation's infrastructure and promoting sustainable development across these key sectors.
CPRC is committed to working with our local governments to take advantage of these dollars and access additional investments for our region's future. 
Resources
Questions about BIL can be directed to Alana Keegan, akeegan@centralpinesnc.gov.
Passed into law on March 11, 2021, the American Rescue Plan (ARPA) allocated +$750M in direct financial assistance to local governments in our region to help with economic recovery from COVID-19. 
ARPA Direct Assistance
Additionally, the NC General Assembly allocated direct funding to CPRC and the statewide COG network to assist local governments with receiving, spending, and reporting on their ARPA funds. 
Local governments can reach out to Tara Nattress, tnattress@centralpinesnc.gov, for direct assistance or guidance on ARPA and State and Local Fiscal Recovery Funds (SLFRF).
CPRC Resources
Learn how the COGs are making an impact on COVID recovery through this investment here
Preparing for New Funding Cycles
Local governments and partner organizations in the region are eligible for an expansive number of funding opportunities, including many new or expanded pots of money. These competitive grants are an incredibly chance for our region to access more money for key priorities and think strategically about projects. Resources below can help with coordination and planning.
State Funding
Keep up with state programs using this comprehensive database of North Carolina grant programs.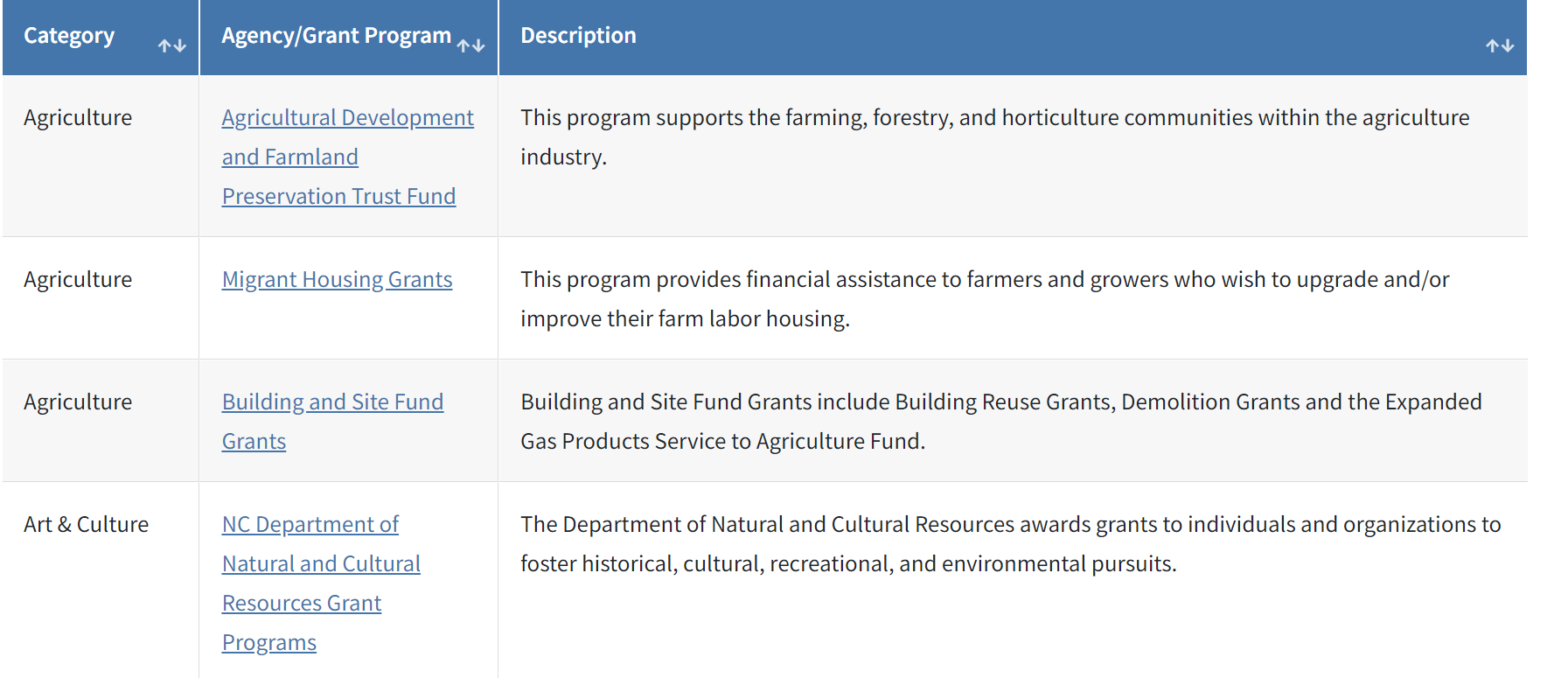 Federal Funding 
October 1st is the start of a new Fiscal Year for the federal government! It is never too early to get started developing an application, even if a program's annual Notice of Funding has not been released.
CPRC's tips for competitive grant writing:
Use this annual forecast of grants to plan your approach.
Use last year's Notices of Funding Opportunity (NOFO). Guidelines only dramatically change following a new presidential administration. 
Ask for feedback on an unsuccessful application before the program's next round opens.
Learn about building competitive federal proposals in this webinar with CPRC's Government Affairs partner Strategics Consulting.
Mapping Tools for Applications