The National Association of Regional Councils (NARC) recently celebrated its 57th Annual Conference and Exhibition in Detroit, Michigan and elected leaders for 2023-2024. Jennifer Robinson, Council Member for the Town of Cary, NC was elected to serve as the next president of NARC. Robinson was first appointed to the Cary town Council in 1999 and during her time as Council Member has held several leadership positions with Central Pines Regional Council, including serving as Chair from 2015-2016.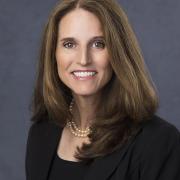 "As the newly elected Board President, I am humbled and grateful for the trust and confidence placed in me by my colleagues, " said President Robinson. "I am committed to serving our organization with integrity, transparency, and a steadfast dedication to our mission. Together, let us work hand in hand, respecting diverse perspectives, and making thoughtful decisions that will shape a prosperous future for our organization and those we serve."
Since 2015, Ms. Robinson has held a variety of positions at NARC, including president-elect, senior vide president, Region IV board representative, and co-chair of NARC's economic and community development policy committee. Ms. Robinson is currently serving her seventh term on the Town of Cary's Council. She was appointed to Central Pines Regional Council's Board of Directors in 2008 and served one year as Board Chair in 2015-2016. Ms. Robinson is actively involved in the community through her leadership in the North Carolina League of Municipalities, the GoTriangle (Triangle Transit Authority), and the Northwest Cary YMCA. She has been employed by SAS as its Director of Local Government Solutions for the last seven years. In this role, she has helped cities across the country use analytics to be more effective and efficient in meeting the needs of their citizens. She recently accepted a new role overseeing Global Government Strategy and Engagement for SAS.